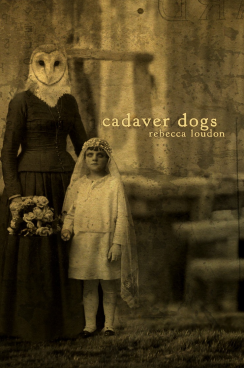 It was tough to choose as I have more than a few unread books by contemporary poets, but ultimately I decided to go with
cadaver dogs
by Rebecca Loudon because, well, that was the next book I wanted to read.
A flip-through tells me that I'm in over my head here because I'm not sure what the poems I've read in there
mean
. In fact, it wasn't until I started research for this description that I found out that "cadaver dogs" are police dogs that are trained to sniff out decomposing human flesh. Between that factoid and the cover I think we can expect some dark material.
The first poem is titled "Double-plush Wolf in a Hungry Age". The close proximity of Hungry and Wolf led me to expect a fairy-tale motif, and I think that I found it mixed in with some production/consumerism and general sexual identity. Of course I'm thinking "Little Red Riding Hood", and generally that's understood to be about sex or rape. I think this strophe supports that reading:
A bit of fur glued on and some fork tines
and my transformation was complete. I was
the little man in the brown suit your mother
warned you about.
This fairy-tale language seems to be a large part of the poem, including "enchantments", sleeping children, and a notable "nibble nibble nibble / the center of your sweetbread heart." (which always reminds me of Hansel and Gretel).
If there's a narrative in the poem, it's lost on me. There's a declarative "I am a seamstress" in the fifth line, so I did get a sense of a single, clear narrator, at least, but I don't know that she's meant to tell a story.
I do feel there is some message or sense of consumerism intentionally worked into the poem. It starts with a very suggestive enjambment on the first line:
A wax snout is a lot of work for a city
girl living in the forest, even counting
And language pops up like "5 Mile Prairie" and "Betty Crocker Potato Buds". I think the title itself refers to consumer culture by "Hungry Age".
I may just be disorganized tonight, but I do think the poem resists a purely rational explanation. I think a large part of the poem is the impression the words and (startling) images leave on the reader. It is disconcerting, over all.